The Program
Raising a puppy is an incredibly rewarding experience- and rasing your puppy right will bring you years of wonderful companionship. It will set your pup up for a happy life, not to mention give you peace of mind as your fuzzy baby develops!
​
Did you realize that during the first few weeks that you have your puppy a scary experience can stay with him for life? And that there is a precious window of time in which you can introduce your puppy to all that it may be exposed to in his life so that he handles stress in an effective manner?
​
How about knowing how to properly potty train your little leaker? And how to enjoy a play session without having your personal Tasmanian Devil shred your hands?
​
If you have a puppy, this is the program for you! You have a great adventure ahead of you- let us help you get off to the best start!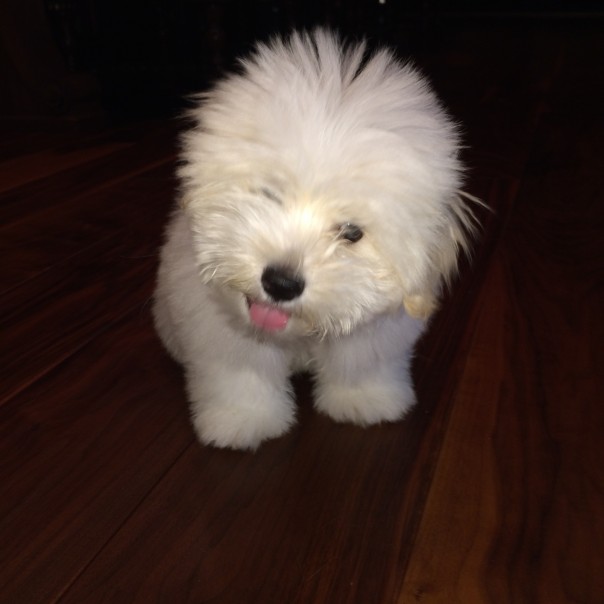 I had the extreme pleasure of working with Lorena of Waggers Dog Works for my 3 month old puppy, Chase. Chase is an energetic little puppy that had no problem fitting it our lively home of 2 adults and 4 excited children. Chase did, however, quickly begin to think he ran our pack. Within a week, biting and growling had been a common theme with the children. My veterinarian warned that Chase was showing signs of becoming an overly aggressive dog. He suggested making Chase submit to me and "show him I was the boss" by holding on his stomach while clamping his mouth shut with my hands and that it was imperative that my children to the same. Needless to say we were devastated.
I decided to do some research and found Waggers Dog Works. Upon our first visit Lorena made me feel at ease with Chase and within 2 weeks Chase was a different dog. Lorena is a master at what she does. Quite simply she speaks the language of the animal and gets the job done through positive reinforcement. Oh, and my vet that gave me my outdated advice on animal submission, he ended up asking me who I used to train my puppy! Many, many thanks to Waggers for helping our family bring a happy and healthy puppy into our home!
Format & Pricing
One-on-one Online Puppy Education Coaching Program
FORMAT
8 coaching sessions (30 minutes) 2x per week
During these private online sessions, you will be coached, step by step, on what you need to teach your puppy for a life with humans, and how to do so.
Live demonstrations of each step with your coach's dog will help you understand the learning process.
You will also learn how to accurately read and interpret your puppy's body language so you can respond to your new family member's needs.
weekly written instructions
You'll receive weekly instructions detailing how to what we covered during the week's coaching sessions.
access to recorded coaching sessions
Don't quite remember a detail of what we covered? No worries! You'll have a personal link to your coaching sessions for you to review whenever you need.
Daily Logs to Track Your Dog's Progress
You will have access to a file via Google Drive to fill in a daily log of your puppy's progress. Your coach will give you feedback commentary so that you maximize your puppy's behavioral growth.
PRICING
One-time payment of
$718
Your intake form has been submitted. Check your email for a copy of your responses. If you're accepted, you'll receive an email with a link to checkout.
Frequently Asked Questions
How can you train my dog via a Zoom meeting?
Online coaching for dog training is actually quite effective. Because we only use methods that are recommended by the Veterinary and Applied Animal Behavior communities, as your coach, I don't need to touch your dog to help you train her, nor do I need to use any electronic remote collars to do so, either. It may sound like magic, but it's not.
It's science.
Even when I was coaching clients in person, I never touched the dogs we worked with (unless the dog solicited petting from me- which I never turned down. I'm not a monster.).
What do I need for online coaching?
The fact that you are on this website to begin with makes it highly likely that you already have all you need:
A reliable internet connection
An internet-ready camera (most computers have them built in), or if you are using a tablet, it will have one.
Speakers for your device so you can hear me (most have them built in)
Microphone for your device so that I can hear you (most have one built in)
We can provide you with a video that will show you how to join a Zoom meeting if you need it.
What if I have questions on my dog's behavior outside of the coaching sessions?
Your coach will be available via email to answer and support you throughout the program.
How do I schedule my coaching sessions?
Once you sign up for the program, you'll receive further instructions on everything you need to do for the program, including how to book a time for your appointments.
Don't worry- it's super easy and you do it right from your dedicated coaching area. 😊
Do you have a refund policy?
Due to the personalized nature of this coaching program, there are no refunds once you sign up.
When you are ready to commit, we'll be there for you 100% of the way.


Can I purchase coaching more than once?
Absolutely! If you find yourself in need of coaching more than once, simply purchase the program again.
Is this program guaranteed?
It would be unethical for us to offer any type of guarantee when it comes to the behavior of any dog. What you can be sure of, however, is that you will be getting solid, evidence-based coaching and guidance on how to help your puppy start off to a happy life with you and your family!